Specials
The following specials are items that have been discontinued and we only have a few left or samples that are left over. You can get some great deals on merchandise that you can't buy again. Only one of each lot is available so if you are interested, buy now. If you don't see anything here, that means someone has already bought them all but check back as we will add more when we can.
1 - CZ Earring Special - 6 different pairs of CZ earrings - 5 of these are huggies, 1 is post - $36.50. All of these are good styles - Returnable if in same packaging. No pictures available.
2 - CZ Pendant Special - 8 CZ pendants - 1 gray pearl and cz pendant, 3 of one style, 2 of another style, one rectangle style and 1 other round style. Most have single round CZ stone. - $28.70.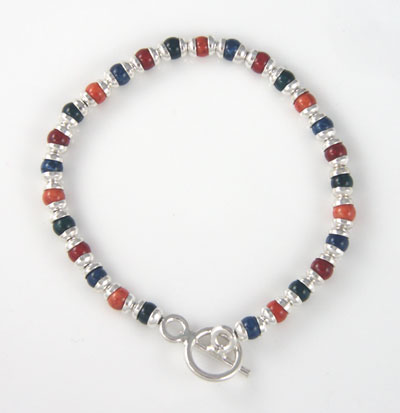 Multicolored Bead Bracelet
on sale for $9.80 (regularly $12.50)